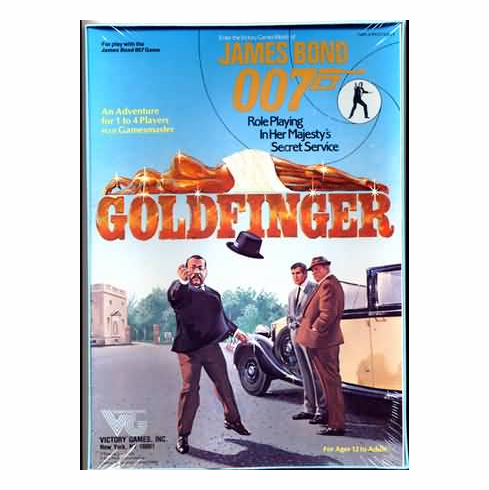 Victory Games James Bond 007 RPG Goldfinger Box Set
Victory Games James Bond 007 Role Playing In Her Majesty's Secret Service Goldfinger Box Set. An adventure for 1 to 4 players, plus gamemaster.

Briefing: International industrial magnate Auric Goldfinger is suspected of smuggling gold out of England. But there is no solid evidence against him. Also, he has backed suspicious gold mining operations around the world. Are Goldfinger's actions merely the work of a greedy man, or is he plotting some more sinister design against an unsuspecting world?

Mission: The British Secret Service has called on you, one of its top agents, to follow Goldfinger and unravel the mystery behind the Man with the Golden Touch. But you must be careful. If you tip Goldfinger to your real purpose or force his hand too early, you may find yourself having to confront his murderous bodyguard, Odd Job.

The Goldfinger Adventure Package contains: A fully illustrated 48-page Gamesmaster's Guide which includes complete instructions on running an adventure, An Agent's Briefing Dossier from M.I.6 with 8 Mission Information Sheets, and a full colour wrap-around folder complete with detailed maps of the major areas where encounters might occur.

For Play with the James Bond 007 Basic RPG Game.

Released in 1983.